SEC Exam Priorities for 2018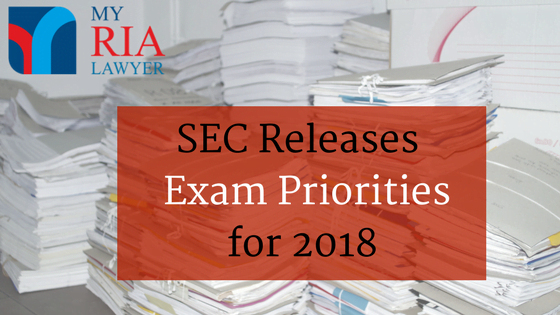 On February 7th, the SEC's Office of Compliance Inspections and Examinations ("OCIE") released its annual examination priorities memo for 2018, providing insight into what the SEC will be looking for this year.
The SEC identified five key themes that will be priorities for OCIE in 2018: Retail Investors, Compliance and Risks in Critical Market Infrastructure, FINRA and MSRB Exams, Cybersecurity, and Anti-Money Laundering Programs.
The SEC will focus a great deal of attention this year toward seniors and those saving for retirement and will target firms that market to these types of investors. OCIE has warned that it will look closely at the products and services a firm offers to retail investors, as well as the disclosures provided to those investors. OCIE will focus on circumstances where it believes retail investors may have been harmed and will check to see whether the firm and the financial service professional met all legal obligations and disclosure requirements.
This year's SEC examinations will also target firms' cybersecurity programs, including risk assessments, data loss prevention policies, vendor management, and breach incident responses. Firms must ensure they have robust cybersecurity policies and procedures in place to protect client information and accounts.
Financial institutions that are required to establish Anti-Money Laundering ("AML") programs are subject to significant compliance requirements. The SEC continues to focus on AML to ensure that firms are not cutting corners and that they are implementing AML programs that are reasonably designed and tailored to their business risks. My RIA Lawyer has significant AML experience and can conduct your required annual independent AML audit and help you avoid unnecessary penalties due to deficiencies in your AML Program.
If you have concerns about your next SEC examination, contact us today to schedule a strategy session to discuss your compliance and legal goals for 2018.