The Experiment – What Is It?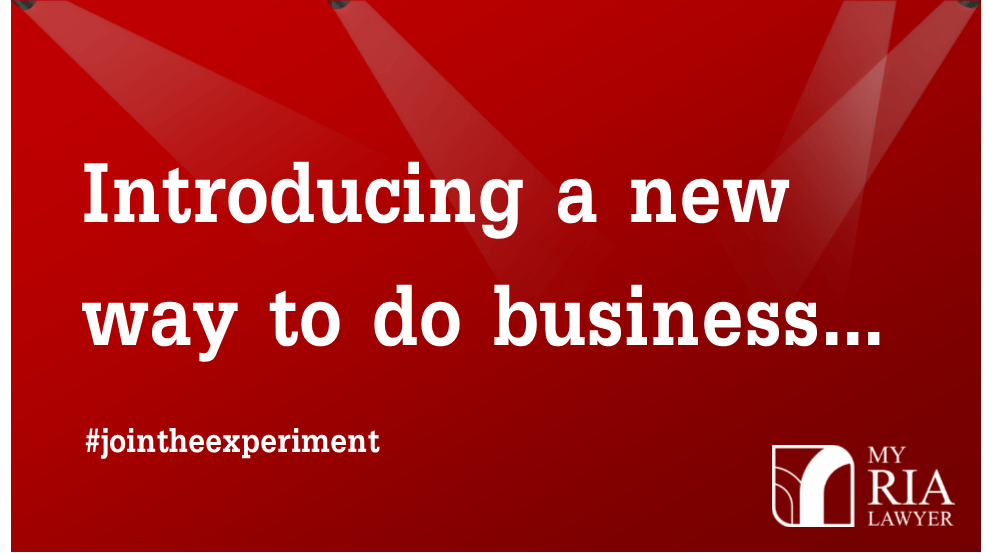 Did You Miss Our Announcement?
We're offering a new way to obtain services at an affordable cost. It's simple. You, along with four other advisers, agree to start a fractional co-op. Your co-op agrees to a level of services offered by My RIA Lawyer for a monthly fee. The Experiment is the most affordable way to receive expertise and services. You may be wondering what sort of services are included. For a complete overview, click here. For a list of some of the services provided, see below.
Unlimited compliance questions via email and phone,
Unlimited Part 2Bs,
Unlimited U4 & U5 filings,
Access to our Compliance Boot Camp,
Marketing Services,
& More.
Prices vary from $1500 to $8500 per month, depending on the level of service and whether or not you an SEC-registered adviser. There are three packages to choose from, and your co-op must select the best one for the entire group.
What Are the Rules?
We kept this as simple as possible.
All 5 firms must sign an agreement before services begin.
Firms must sign up by 2/28/19.
Each firm must commit to 12 months of services.
CEOs, of all 5 firms, must commit to (1)-90-minute group call each month.
Must visit the office of My RIA Lawyer at 6 months into the contract for a 1-day meeting between all 5 firm CEOS.
That's it. We encourage you to ask questions and review our website for additional details. My RIA Lawyer is introducing an entirely new model to the industry, so space is limited for now. Don't wait, contact us today at 770-462-2118 to determine if this Experiment is right for you.