FINRA Expungements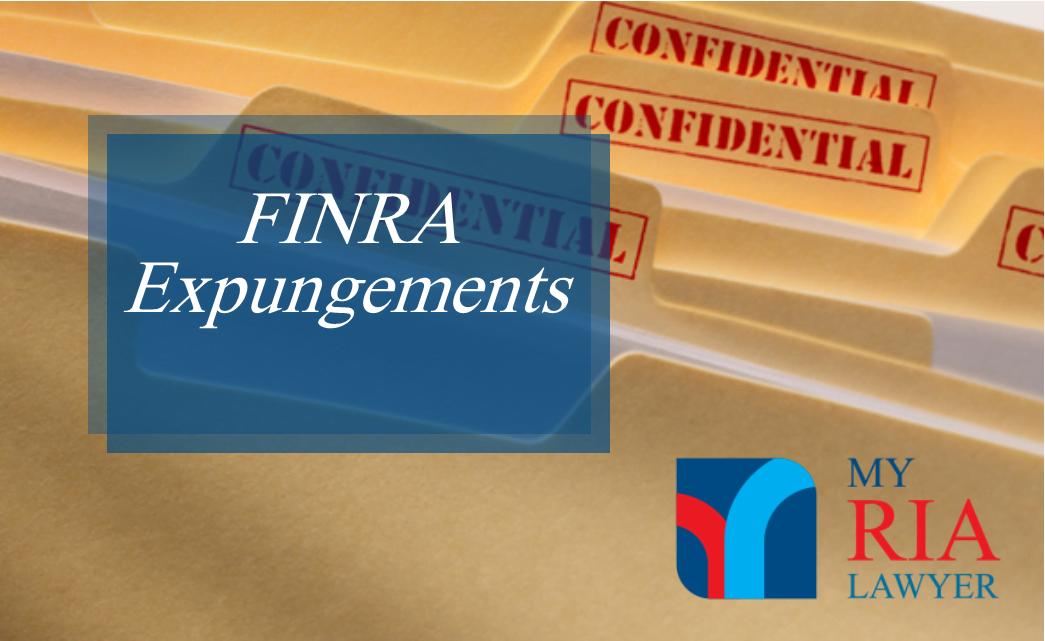 FINRA and the SEC seek to make expungements more difficult.
Background
Through the expungement process, associated persons may seek to remove allegations made by customers from the Central Registration Depository ("CRD") system and hence from the FINRA BrokerCheck ("BrokerCheck") system. It has been FINRA's position that expungement of customer dispute information is an extraordinary measure, but it may be appropriate in certain circumstances.
Traditionally, expungement is requested as a form of relief during the course of a Customer Dispute and settlement agreements included language whereby the Customer agreed not to dispute the Associated Person's request for expungement.
Proposed Changes
The proposed amendments to the Codes would make a number of important changes to the current framework related to the expungement of customer dispute information. Among other things, the proposed amendments would:
All Requests for Expungement of Customer Dispute Information
amend the Codes to require that for all requests for expungement of customer dispute information:

the associated person who is seeking to have his or her CRD record expunged must appear at the expungement hearing; and
to grant expungement, a three-person panel of arbitrators must unanimously agree that expungement is appropriate under Rule 2080(b)(1) and find that the customer dispute information has no investor protection or regulatory value.
Expungement Requests During the Underlying Customer Case
limit an associated person who is named as a party to one opportunity to request expungement, and that opportunity must be exercised during the Underlying Customer Case;
create limitations on requests for expungement of customer dispute information, including a one-year limitation period after the Underlying Customer Case closes for an associated person to file an expungement request that was not decided during the Underlying Customer Case;
codify a party's ability to request expungement on behalf of an associated person not named as a respondent in the Underlying Customer Case (hereinafter referred to as an unnamed person) during the Underlying Customer Case, and establish procedures for such requests;
require associated persons who file expungement requests outside of the Underlying Customer Case to file the request under the Industry Code against the firm at which he or she was associated at the time of the events giving rise to the customer dispute;
remove the option to file an expungement request outside of the Underlying Customer Case against a customer; and
specify a minimum filing fee of $1,425 for expungement requests.
Expungement Arbitrator Roster
establish a roster of public chairpersons with additional qualifications to decide expungement requests (Expungement Arbitrator Roster) filed against a firm under the Industry Code.
Expungement Requests in Simplified Arbitration Cases
require that an associated person or an unnamed person wait until the conclusion of a customer's simplified arbitration case to file an expungement request, which must be filed against the firm not the customer and would be heard by a panel selected from the Expungement Arbitrator Roster.
Expungement Requests relating to Customer Complaints that Do Not Result in an Arbitration Claim
require that the associated person seek expungement of the customer dispute information relating to a customer complaint within one year of the member firm initially reporting the customer complaint to CRD.
Impact on You
Time may be running out to seek expungements of old Customer Dispute related disclosures.  While the SEC has yet to review and approve the proposed changes, you should seek to file your expungement requests now.  For many brokers, their employing firm was required to disclose a client complaint even if it did not end up in arbitration or was found to be unfounded.  These disclosures remain on a broker's U4 until they are expunged.  Similarly, if a Customer Dispute was settled or no request for expungement relief was made by the broker during the course of an arbitration, then those disclosures will remain.  Under the new rules, there is a one-year time limit on requesting expungements.  So for many of the legacy disclosures on your U4, there will be no avenue for expungement once the rule goes into effect.
DON'T WAIT.  If you want to expunge certain disclosures from your U4, now is the time to do it.  Schedule a consultation today.