Steve's Corner: Forecast or Fortune Telling?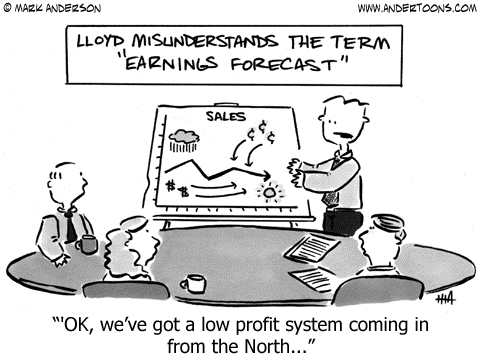 Forecast or Fortune Telling?
A recent survey found that the number one use of smartphones was to access weather forecasts.  People plan their activities and actions around these forecasts and have become heavily dependent upon their accuracy in their day to day lives.  What is truly amazing is that many business owners do not review their own company's forecasts with the same frequency, even though these corporate forecasts are clearly more important to them than the weather.  Many companies have either no business forecast available or develop a forecast without much care being taken in its development.  In neither of these cases is forecasting being used as the effective corporate tool it has proven to be.
Let's take a moment to review the often misunderstood and misused corporate practice of forecasting.
What Are the Benefits of an Accurate Forecast?
The major benefit of forecasting is that it provides a logical framework to use in making future business plans.  Planning without forecasting is an impossibility.  According to Henri Fayol (a business management pioneer), the essential function of management is to forecast and plan.
Forecasting facilitates managerial decisions.  With a logical basis for determining the status of future business operations, management can make correct decisions regarding personnel, sales, and other requirements.
Forecasting is essential to determine future financial needs.  Without a correct estimate of financial requirements, a business will either be unable to raise needed capital or not take full advantage of excess capital.
The forecasting process forces those involved to take a detailed look at what drives a business' success.  It is important that all areas of a company are involved in forecasting to keep everyone moving toward the same goals.
What Are the Challenges to Obtaining an Accurate Forecast?
The primary challenge to obtaining an accurate forecast is a lack of standardization.  A common (and poor) practice is to have each department arrive at their own forecast and try to roll these up into an overall corporate picture.  Without a standardized approach, it is impossible to put these pieces together into an accurate enterprise wide corporate forecast.
A second problem is that often there is no quantitative basis for the resulting forecast.  Too often, projections are based upon "gut feelings" or "experience" rather than hard, logical, demonstrable figures.  Don't get me wrong, experience is extremely valuable, but a plan based upon sound quantitative analysis will provide the solid framework which can then be adjusted for these subjective items.  This is where an experienced, forecasting professional is required who can apply the proper quantitative forecasting technique to your organization.
New business lines are not adequately incorporated in a forecast.  The usual approach of reviewing historical activity and projecting it into the future will fail to capture these opportunities.  This will result in inaccuracies in the forecast.
Inaccurate forecasts replicate themselves.  When faced with erroneous forecasts, organizations will simply put less emphasis on them as opposed to reviewing in detail the reasons for the inaccuracies.  This results in future forecasts being de-emphasized and therefore their benefits will be lost to the company.
Pulling It All Together
Developing accurate business forecasts is a time tested and proven business practice.  It is essential to the continuing success of your business.  Establishing an unbiased baseline forecast is integral to making correct decisions for your organization.  Spend some time reviewing your organization's approach to forecasting and put this tool to work for you.
Ready to move forward?  Call us at (770) 462-2118 or book your appointment now to move forward with your business forecast.  Once engaged, we can review your business and provide an accurate baseline forecast for you to use in your organization.
-Steve, CFO Consultant