What is the SEC focusing on in 2021?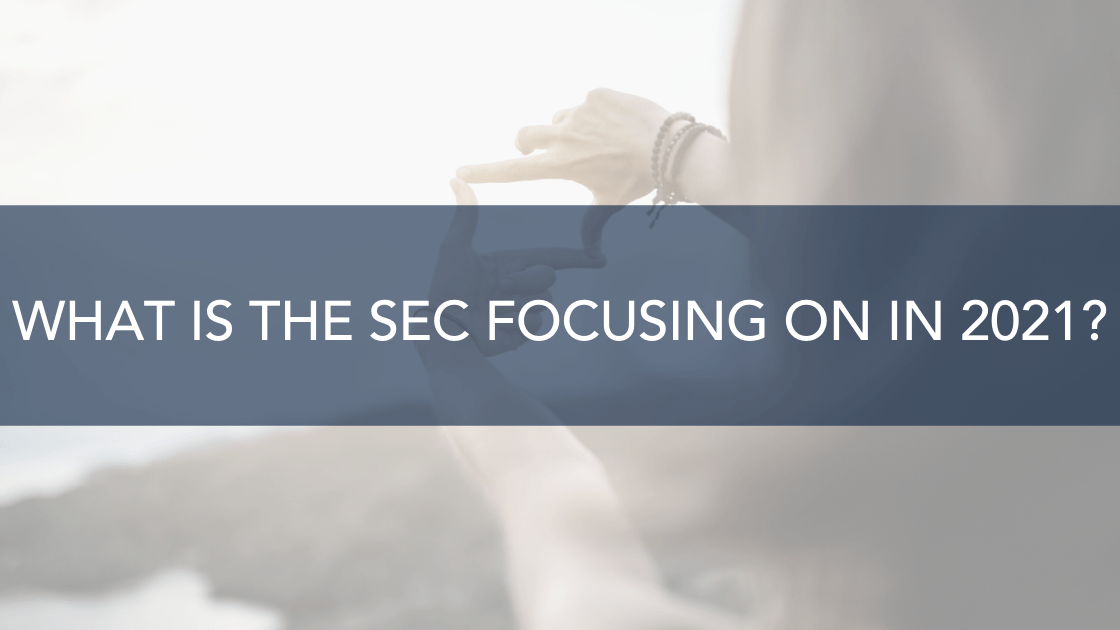 What is the SEC focusing on in 2021?
You may be wondering if you are on the list for an exam this year. Is it due time for your firm or are there any flags that are putting you on their radar? We've compiled a list of the priorities and focus that the SEC will have for 2021:
Retail Investors, Including Seniors and Those Saving for Retirement, through Regulation Best Interest and Fiduciary Duty Compliance – They will be focusing on compliance with Reg BI, Form CRS and if RIAs have fulfilled their duties of care and loyalty. They will be looking to see if conflicts of interest are being mitigated.
Information Security and Operational Resiliency – The SEC will continue to review business continuity and disaster recovery plans of firms, but will shift its focus to whether those plans are accounting for growth and other relevant risks associated with climate change. They will be checking to see if the RIA is taking the appropriate measures to safeguard customer accounts and prevent intrusions. They will also be looking to see if you are managing operational risks connected to those working from home.
Financial Technology (Fintech) and Innovation, Including Digital Assets – The SEC will be determining whether RIAs are operating consistently with their representations, whether firms are handling customer orders in accordance with their instructions, and review compliance around trade recommendations made in mobile applications, along with other areas.
Anti-Money Laundering Programs – They will review for compliance with anti-money laundering requirements which includes reviewing whether B/D and RIAs have policies and procedures in place that are designed to identify suspicious activity and illegal activities.
The London Inter-Bank Offered Rate (LIBOR) Transition – There will be continued engagement with RIAs via exams to determine the understanding of any exposure to LIBOR, to see if you are preparing for LIBOR to discontinue and the transition to an alternative reference rate, in connection with the RIAs' own financial matters and those of their clients and customers.
There will be focus areas related to Investment Advisers and Investment Companies – 
Compliance Programs – The SEC is going to focus on the RIA's policies and procedures. They are also going to focus on strategies and products that are widely available to investors including open-end funds and ETFs, as well as those offered to accredited investors such as qualified opportunity funds. They will also take a close look at disclosures being used.
Registered Funds, Including Mutual Funds and ETFs – Examinations of registered funds will focus on disclosures to investors, valuation, filings with the Commission, personal trading activities, contracts and agreements, and will include a review of fund governance practices and compliance programs.  There will be a priority in exams of mutual funds or ETFs that have not previously been examined or have not been examined in a few years, and will generally focus on fund compliance programs and financial condition.
RIAs to Private Funds – The SEC will focus on advisers to private funds, and will assess compliance risks, including a focus on liquidity and disclosures of investment risks and conflicts of interest.
There will also be focus areas involving Broker-Dealers and Municipal Advisors – Exams of broker-dealers will focus on compliance with the Customer Protection Rule and the Net Capital Rule, including the adequacy of internal processes, procedures, controls, and compliance with requirements for borrowing securities from customers. There will be a focus on compliance especially around some amended rules, if fiduciary duties are being met, and on business practices and adjustments through the pandemic.
Market Infrastructure –
Clearing Agencies – There will be focus on clearing agency exams on compliance, legal, recovery and wind down, margin, back-testing, settlement and operations, liquidity risk management, effect of the LIBOR transition and cybersecurity and resiliency, among other things.  There will also be a focus on whether firms have taken appropriate and timely action to correct and mitigate the risks associated with previous deficiencies found.
National Securities Exchanges – Examinations will focus mainly on exchange operations to monitor, investigate, and enforce member and listed company compliance with exchange rules and the federal securities laws.
Regulation Systems Compliance and Integrity – There will be continued assessment of whether SCI entities have established, maintained, and enforced written SCI policies and procedures as required.  Areas of focus will include IT governance, IT asset management, cyber threat management/incident response, business continuity planning, and third party vendor management, including utilization of cloud services.
Transfer Agents – There will be continued exams on core functions of transfer agents including the timely turnaround of items and transfers, recordkeeping and record retention, and safeguarding of funds and securities.
FINRA and MSRB – They will continue oversight of FINRA by focusing examinations on FINRA's operations and regulatory programs and the quality of FINRA's examinations of broker-dealers and municipal advisors.  It will also examine MSRB to evaluate the effectiveness of its policies, procedures, and controls.
Is this overwhelming to you? It doesn't have to be! Let us get your business in order today. Schedule a free VIP consultation here!